Resources for Families
Child Feeding Sites
Drive-Up Mobile Pantries
Food Pantries
Catholic Charities Juan Diego Center

5211 S. 31st St.
Omaha, NE 68107
4 to 6 p.m.

First Lutheran Church (Fremont)

3200 E. Military Ave.
Fremont, NE 68025
(402) 721-2959
Thursday 5:30 to 6:30 p.m.

Drive-thru dinner where people may pick up a prepared meal.

Joseph's Coat/Washington County Food Pantry (Blair)

1737 Washington St.
Blair, NE 68008
(402) 426-0440
Monday, Tuesday, Thursday & Friday 10 a.m. to 12:30 p.m. and 1:30 to 3 p.m.

Project Hope Food Pantry

6201 N. 60th St.
Omaha, NE 68104
Call for hours: (402) 453-7649

Salvation Army Burrows Center

6101 N.W. Radial Hwy.
Omaha, NE 68104
Monday through Friday - 9 to 11 a.m.; 1 to 3:30 p.m.

St. Patrick's Parish Office (Fremont)

422 E. 4th St.
Fremont, NE 68025
(402) 721-6611
Monday-Friday 8 a.m. to 4 p.m.

*May receive food once per month

St. Vincent De Paul Food Pantry

2101 Leavenworth St.
Omaha, NE 68102
Call for hours: (402) 341-1689

Thriftology (Fremont)

549 N. "H" St.
Fremont, NE 68025
(402) 721-3125
Thursday: 5 to 7 p.m.
Saturday: 10 a.m. to 2 p.m.

USDA food box may be requested anytime.

NEED: 1) Current ID and 2) Piece of mail within last 30 days mailed to home address

Salvation Army (Fremont)

707 N. "I" St.
Fremont, NE 68025
(402) 721-0930 (Dial "0" when leaving a message and Helen will call back)
Monday-Friday 1:30 to 3:45 p.m.

NEED: 1) Current ID and 2) Piece of mail within last 30 days mailed to home address

*Families with children may now access the SA Food Pantry twice per month instead of once.
Food Resources for Elderly - Intercultural Senior Center
Food pantry services for adults ages 50 and older
Home Delivery

Call (402) 444-6529 to request home delivery.

Pick Up

5545 Center St.
Omaha, NE 68106
Monday through Friday, 10 a.m. to 4 p.m.

Drive Up

5545 Center St.
Omaha, NE 68106
Monday through Friday, 10 a.m. to 4 p.m.

Language assistance in Spanish, English, Karen, Karenni, Nepali, Burmese and Arabic is available.
Completely KIDS Enrichment Videos
"How to Draw a Cactus Landscape"

"Baking with Miss Shayla"

"How to Make a 3D Snowflake"

"Fitness Friday with Ms. Shady"

"I Don't Want to be a Frog"

"Creating a Garden from Vegetable Scraps"

"Making Your Own Maraca/Shaker"

"Intro to Shadow Art - ft. "The Lioness & the Mouse""

"Pete the Cat and the Bad Bananas" - Learning Short A Vowels
guest starring Arianna

Week 4, Day 2: STEM Tuesday
"Gardening and Soil Science"

"How Music Impacts Emotions"

Music By:

"Shake it Off" by Taylor Swift
"Say Something" by A Great Big World & Christina Aguilera
"Year 3000" by Jonas Brothers
"I Wanna Dance with Somebody" by Whitney Houston
"Since U Been Gone" by Kelly Clarkson
"Everything I Wanted" by Billie Eilish

"What Pet Should I Get?" by Dr. Seuss

"Dance Moves with Miss G"

"Strawberry and Banana Smoothies"

"Milk Art and Surface Tension"

"Get Crafty with Completely KIDS"

"How to Make Sidewalk Puffy Paint"

Week 7, Day 2: STEM Tuesday

"Creating Art Using Items Found in Nature"

"Arts & Crafts: How You Feel Today"
Educational Resources
List of tours, performances and tutorials for kids and families

List of education companies offering free subscriptions

Language learning site offering 3 months free for students and educators

Interactive live content for students. Register by grade.
8:30 a.m. to 2:30 p.m. (CST)
Free

A list of activities to do with your kids at home

Learn to code at home with free coding activities online

Participate from home in Art Adventures LIVE!
Streaming on Facebook on Friday mornings at 10:30 a.m.

Free access to more than 6,000 eBooks and 150 journals

Keep Omaha Beautiful's online classroom

Virtually guided activity
Tuesdays and Thursdays at 2 p.m.

Printable activity sheets

At-home outdoor activities and learning about the environment and sustainability
Immigrant Legal Center
At Immigrant Legal Center, the safety and health of clients and staff is the number one priority. Based on recommendations by the CDC and per the organizational closure policy, all Immigrant Legal Center offices are closed until further notice in response to the COVID-19 situation.
Per the policy for a closure of this type, all Immigrant Legal Center employees will work from home.
Attorneys will reach out to clients to reschedule appointments as necessary.
Attorneys will continue to attend scheduled court hearings if the courts are open.
All client service-related deadlines will continue to be met.
Those in need of immigration legal assistance can still contact NILAH (Nebraska Immigrant Legal Assistance Hotline) at 1.855.307.6730.
Current clients, community partners and the public can continue to reach Immigrant Legal Center staff by calling 402.898.1349 or emailing info@immigrantlc.org.
For more information regarding legal updates as they pertain to Immigrant Legal Center, please visit the Immigrant Legal Center website.
Employment/Unemployment
Companies hiring during COVID-19

Short- and long-term unemployment

Temporary monetary assistance
Housing
MUD or OPPD Bills
Residents who fall behind on bills will not see their service cut off.
Residents should not worry about the quality and availability of tap water. (Water quality is checked more than 1,000 times per day.)
Disconnections for non-payment suspended through April 30.
Makes connections for those experiencing homelessness.
24/7 Rent & Utility Assistance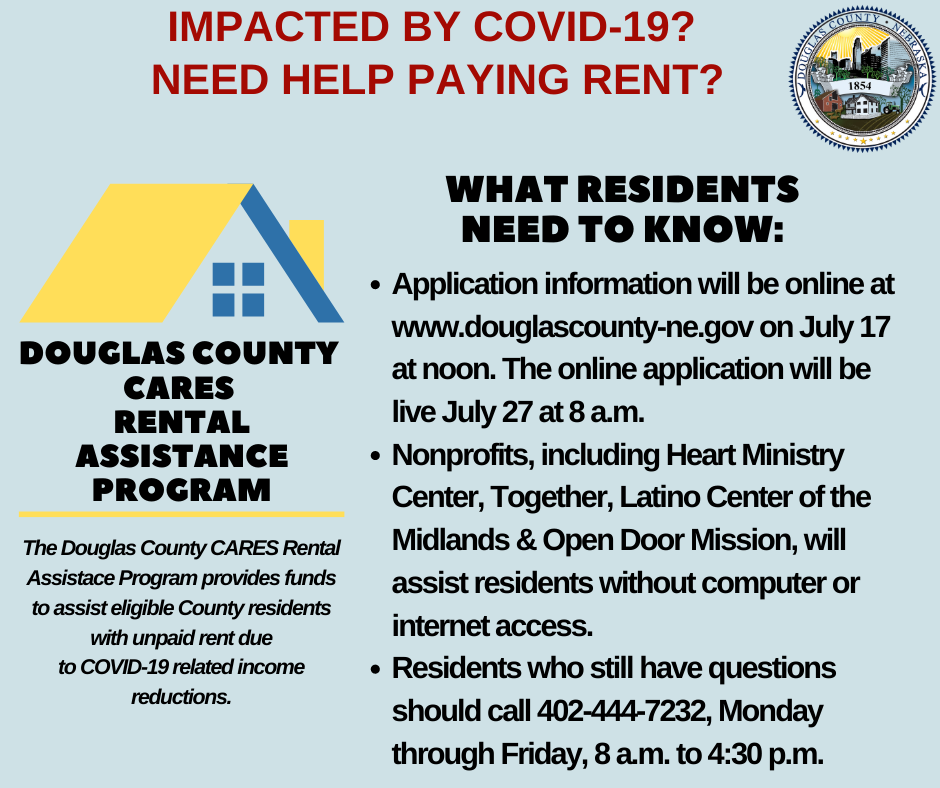 Internet
For the next 60 days, Cox is extending the following (3/13/20):
Upgrading internet speeds.
Not terminating service to any residential or small business customer because of an inability to pay their bills due to disruptions caused by the coronavirus pandemic.
Waiving any late fees that residential or small business customers incur because of their economic circumstances related to the coronavirus pandemic.
Opening Cox Wifi hotspots to help keep the public connected in this time of need.
Connect2Compete will fast-track qualification process so students can continue learning from home (will still cost $9.95 per month).
Qualify to lower phone/internet bill
Free wifi for 60 days - call (844) 488-8398
Transportation & Moving for Students
Enterprise
Available to college students 18 to 24 years of age.
Valid for rentals of an economy through full-size cars, minivans, small pick-up trucks and cargo vans.
Standard driver and credit requirements apply, except for the minimum car rental age per this offer (fee if you are <25 years old removed).
Offer expires 5/31/20.
U-Haul
30 days free self-storage offer.
Students should create an account at collegeboxes.com to initiate an order:

Boxes and packing supplies then are delivered to a student's residence.
Once packed, an at-home service will pick up the boxes at no additional charge.

U.S. students can contact (866) 269-4887 or info@collegeboxes.com to find out when Collegeboxes will be on their campus picking up items for storage or shipping.
The free month applies to new customers with college IDs.
Domestic Violence, Grief & Mental Health Resources
A resource for stopping drinking and improving mental health during the COVID-19 pandemic

Free online training and webinars

Text: LOVEIS to 22522
Phone: (866) 331.9474

Text: LOVEIS to 22522
Phone: (800) 799-7233

24-hour crisis line: (402) 345-7273

Sexual violence information and resources

Live chat available for survivors and those supporting them

Available 24/7
(531) 299-7233
App available – Google Play & Apple Store

Boys Town National Hotline: (800) 448-3000
Text "Voice" to 20121 12 p.m. to 12 a.m.
"My Life My Voice" mood app