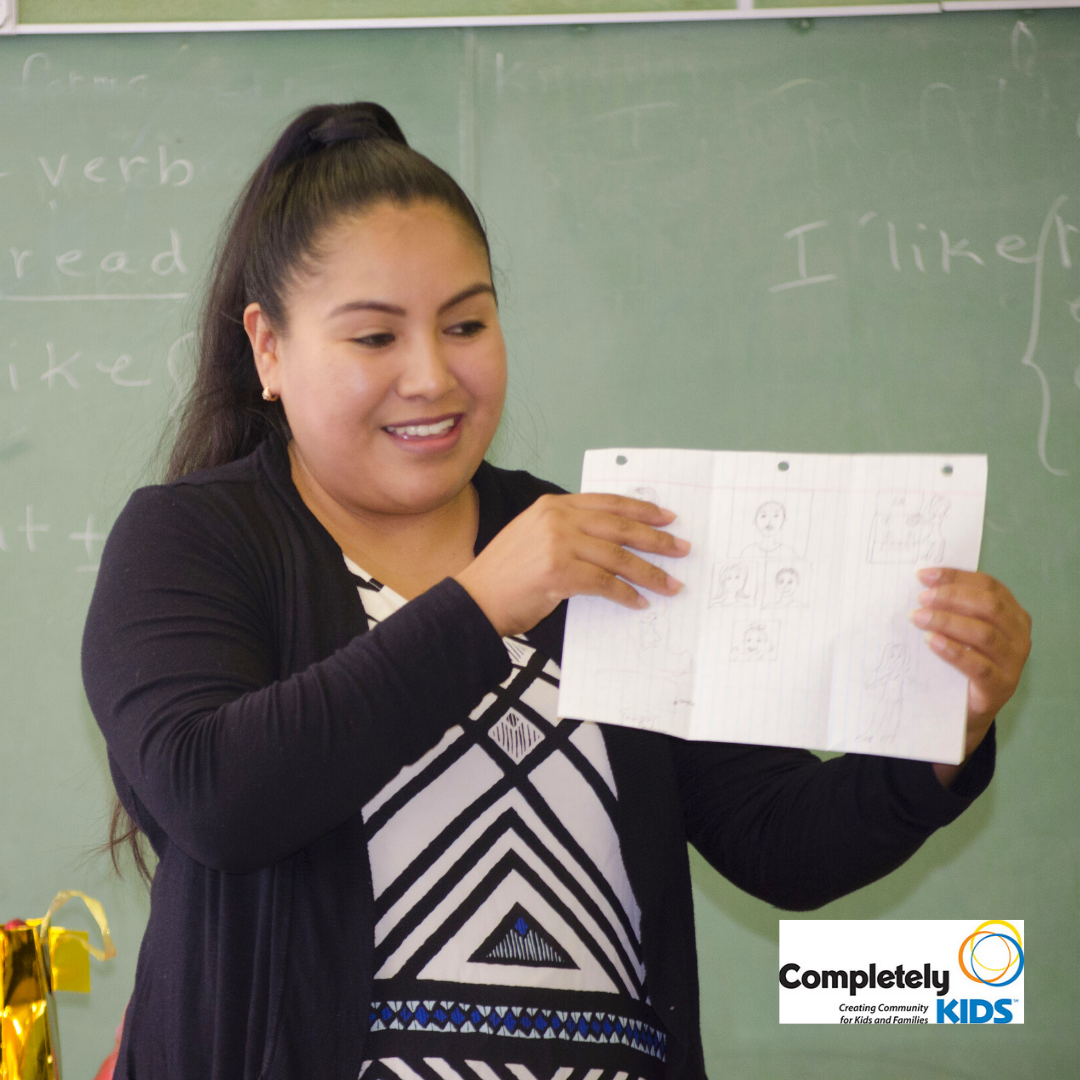 Completely KIDS works toward a holistic approach to try to break the cycle of poverty. To do so, we focus on three things: kids, family, and community. One specific way we try to break the cycle of poverty is by providing adult program programming. We offer adult education classes such as  English as a second language (ESL), GED mindfulness and more. Read below to see the benefits those specifically mentioned provide.
ESL
The majority of families Completely KIDS serve speak English as their second language, which is why we made it a priority to provide ESL classes (71% Hispanic/Latino). Our family services are designed to empower parents with skills to help children achieve success. The benefit of ESL classes is that parents can communicate with native-speaking friends and family within the community while learning to communicate with people who speak only in English. This becomes vital when parents need to speak with a child's teacher, schedule a doctor's appointment or ask a question at the grocery store, for example.
GED
In 2019, we served 331 adults in adult education classes, which includes those in GED. Not only will the adults in our program gain knowledge, but working toward a GED gives them an opportunity for continuing education and puts them at a higher advantage for job opportunities and increased earnings.  Our mission is to try to break the cycle of poverty. One way to do that is to provide opportunities to break the barriers that our families encounter. Not to mention, a parent who completes GED classes and then goes on to obtain a GED experiences a great deal of satisfaction, something to boost his or her confidence level.
Mindfulness, Therapy and Case Management
Practicing mindfulness looks like paying attention to your emotions, noticing your senses, breathing practices, and meditating. Doing so improves a person's well-being, physical health, and mental health.
In 2019, Completely KIDS served 325 adults in a  mental health and case management capacity. This not only includes mindfulness practices but partnering with families for other therapy needs and connecting families to needed resources.
For example, Completely KIDS recently learned one of its families was in need of mattresses. Though we do not offer beds through our program, we were able to connect families with a community partner who does. The Furniture Project provided four mattresses for the family. The services we provide increase self-sufficiency, enhance family dynamics, develop positive parenting skills, and build support networks, all of which contribute to a child's success, family development, and community's strength. 
In addition to the adult education listed above, we offer many additional services to accommodate the ever-changing needs of our families. We have provided haircutting, Zumba, women's art classes, and more! Again, our adult services are one step toward a holistic approach to meeting the needs of the whole child.