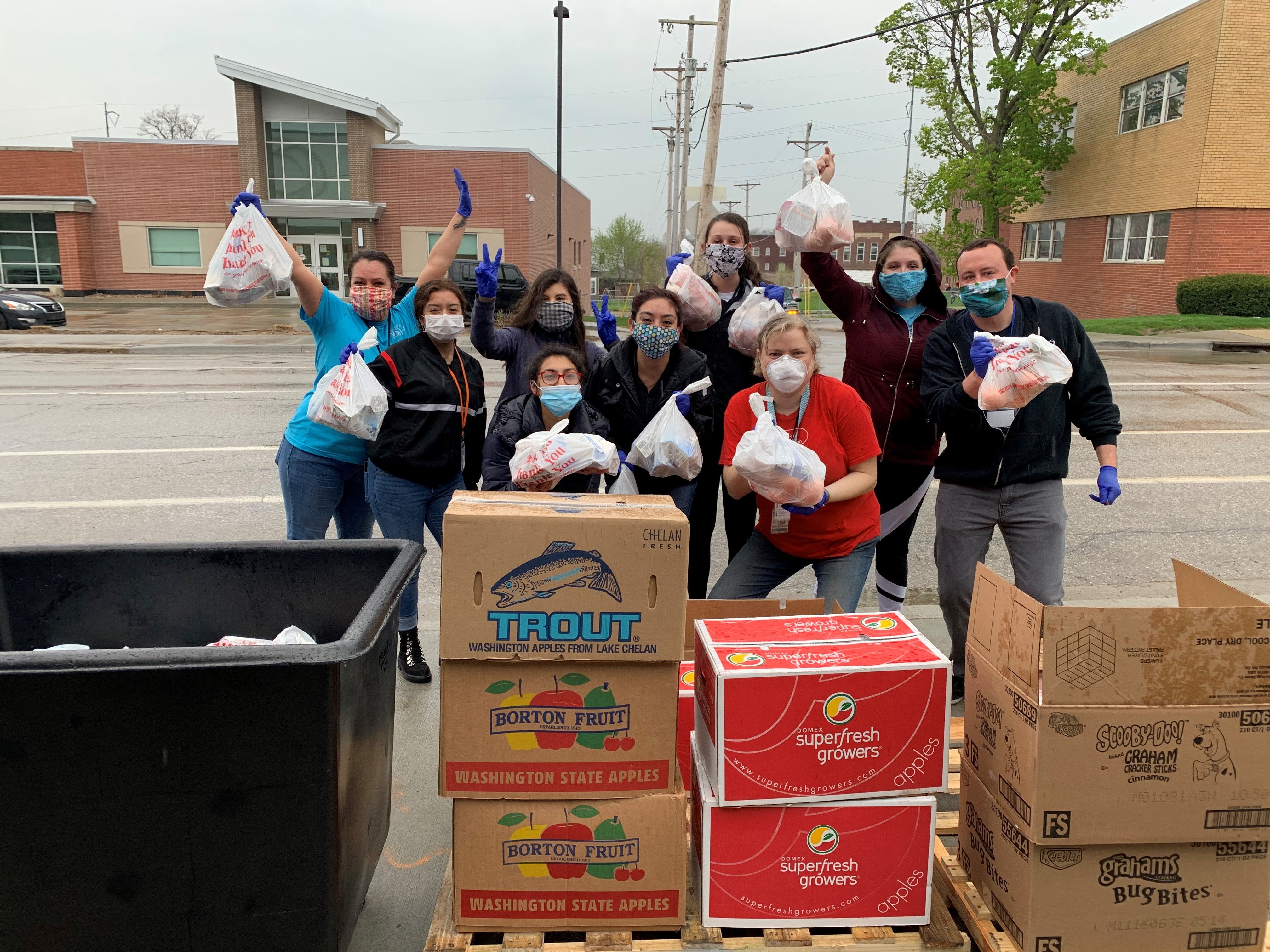 Each week, Completely KIDS has been distributing bags of food, educational supplies, and hygiene products. We have been very thankful to have partners such as Food Bank for the Heartland, Future Kids, Joslyn Art Museum, Noddle Co., and more to provide additional items to even more families. Every Thursday, volunteers pack the food bags and distribute them to 250 families. Staff and volunteers then distribute the additional Food Bank for the Heartland bags on Fridays.
During this pandemic, it hasn't been easy to help our families in need. But our commitment to their health and safety drives our efforts to support them through weekly food distribution. Completely KIDS wants to make sure we are always working toward our mission-- Completely KIDS educates and empowers kids and families to create a safe, healthy, successful and connected community --even if that means finding new and creative ways to do it.
Bill Heaston, Director of Community-Based Programs and Rosa Reyes, CK 26 Program Manager, ensure everything for our weekly food distribution runs smoothly. They both have continued to show up each week to direct our volunteers and staff. Here are a few questions they answered about our weekly food distribution. 
Why do you volunteer for food distribution?
Rosa: It gives me a chance to see the families and let them know they are missed while carrying out CK's mission.
Bill: Because it fits with the mission of CK.
Do you think it's important for staff to be involved with food distribution? Why or why not?
Rosa: I think it's important that families see them doing something to help out with the community that is outside their job description.  However, I understand if they don't.  
Bill: I think staff should volunteer because it ensures that our families know we are working for them. 
Why do you think it's important to do weekly food distributions?
Rosa: It's comforting for families to know that we genuinely care about their well-being and can count on us for food a couple of times each week. 
Bill: During stressed economic times, food distribution not only fills the bellies of our families, but it provides for the social-emotional hurts the pandemic has caused. People are stressed about money. This helps. 
What have you learned since volunteering for food distributions?
Rosa: I've learned that most of us can't wear a mask long-term without feeling like passing out if the temp is over 70 degrees outside.  :)  I have also learned that the staff at CK does a really good job of jumping into action during times of crisis.
Bill: Life is not a constant and our world changes all the time. In the end, we only have each other.