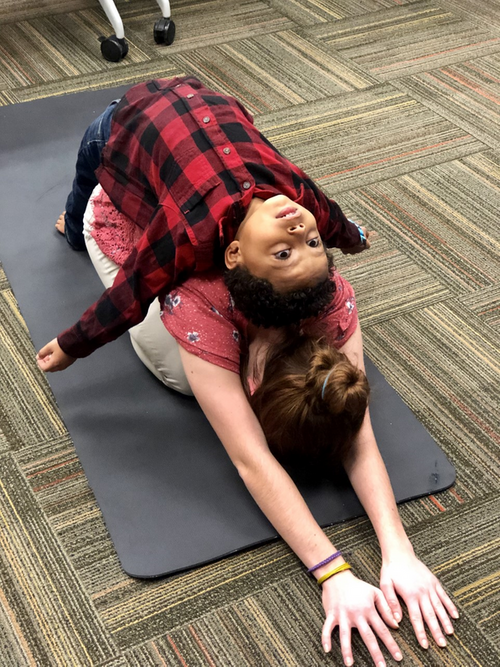 The Completely KIDS℠ Author Luncheon is right around the corner. Our speaker is Dan Harris who is the author of 10% Happier, a book about his journey from covering live news events in dangerous locations to his breakdown on live TV as a news anchor. During Author Luncheon, Harris will speak about mindfulness and how his personal experiences have led him to meditation.
The question is, what does mindfulness mean?
Mindfulness is a mental state achieved by focusing one's awareness on the present moment while calmly acknowledging and accepting one's feelings, thoughts, and bodily sensations. It's used as a therapeutic technique.
Here's what we do.
At Completely KIDS, we have groups targeted to elementary and middle school youth in which we teach mindful techniques. For the younger kids, the focus is on how to recognize their emotions and teach them skills on how to handle their emotions in a healthy way to use in future situations. Clubs are picked by students each session and they can choose from:
Secret Agents
Expressive Arts
Mindfulness
For the older kids, we teach them more about the science behind mindfulness, the benefits of it, the skills, and we go deeper into discussing when to use mindfulness. Clubs that the middle schoolers can choose from are:
Girls Empowered
Boys Empowered (Coming Soon)
Emotional Intelligence
Inclusion & Diversity
Good Vibes
Healthy You, Me, Us
Mindfulness
As for the adults, most of them have never heard of the term mindfulness. Therefore, we go the same route as with older kids, except we tailor it more to their specific experiences that are more relatable.
Not only do we use mindful activities for our programs, but we also practice with our staff. During staff meetings our Professional Development and Curriculum Manager, Joey teaches CK staff different breathing, reflection, and goal-setting exercises. CK is also fortunate enough to have a program-specific for staff, which is a yoga class once a week. The main purpose of providing mindfulness techniques is to efficiently provide tools to our students.
Mindfulness activities are a part of how we strive toward our mission to educate and empower kids and families to create an overall connected community. Harris has identified mindfulness through personal occurrences to discover mindfulness activities he enjoys. Mindfulness activities are meant to recognize and regulate emotions, decrease stress, anxiety, and depression.
To learn more about the speaker and Author Luncheon, click here.