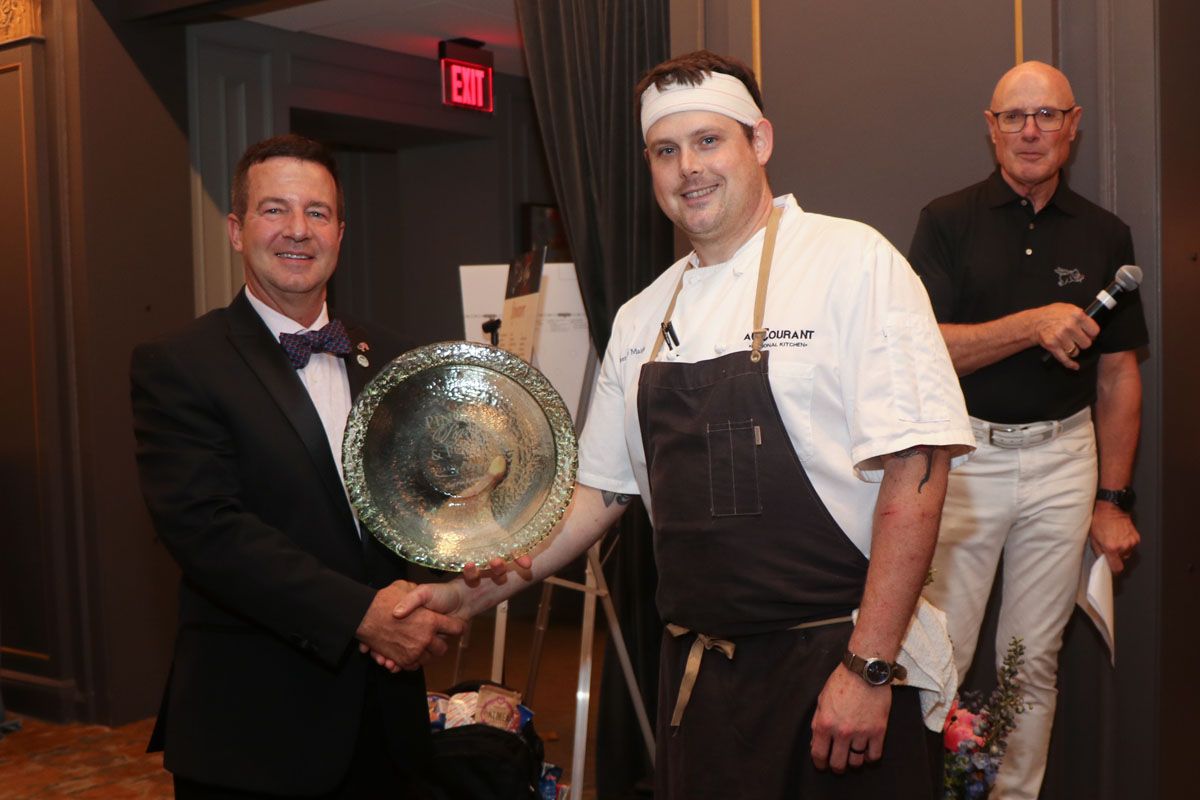 Proceeds benefit food programs to prevent child hunger
OMAHA (June 7, 2019) – The 10th anniversary Pinot, Pigs & Poets event raised $520,000 in support of Completely KIDS. In what has become one of Omaha's premier wine and food events, Pinot, Pigs & Poets specifically benefits the weekend and afterschool food programs for the Omaha nonprofit.
Pinot, Pigs & Poets drew 425 guests for the sold-out event at Happy Hollow Club on May 16.
"This 10th year, Pinot Pigs & Poets continues to feed more children than ever," said Kyle Robino, Pinot, Pigs & Poets co-chair. "The backpack program and afterschool program are successfully ensuring that the young children Completely KIDS mentors are on a pathway to success."
Highlights of the event included the announcement of the winner of the Taste of Elegance chef competition, sponsored by the Iowa Pork Producers and Nebraska Pork Producers associations, and vintner competition winner. The 2019 Taste of Elegance Competition Chef Par Excellence was awarded to Chef Ben Maides of Au Courant Restaurant. He will attend the 2019 Midwest Pork Summit in Cedar Rapids, Iowa, for his winning dish, a duet of pork and carrot with asparagus. Domaine Serene 2015 pinot noir, Willamette Valley grown, edged out more than 40 other wines for the top pinot noir of the evening. Bruce Nielsen, of Quench Fine Wines, was present to accept the award.
"The Iowa and Nebraska Pork Producers (were) thrilled to host the Nebraska Taste of Elegance as a component of Pinot, Pigs and Poets," said Jane Stone, NPPA Domestic Marketing Director. "Working with top-tier chefs while also serving the greater good by supporting the excellent work of Omaha's Completely KIDS organization is a wonderful opportunity for our industry."
Other restaurant participants for the evening were: Chef Oscar Hernandez, 712 Restaurant; Chef Michael Glissman, Eat Restaurant; Chef Cesar Gonzalez Rangel, Happy Hollow Club; Chef Eric Rickard, Kith & Kin Southern Kitchen; Chef Cedric Fichepain, Le Voltaire French Restaurant; Chef Patrick Micheels, Monarch Prime & Bar; Chef Ryan Ernst, Mouth of the South; Chef Andrew Loughrey, Stokin' Goat; and Chef Jacob Newton, V. Mertz.
Poets Ryan Boyland, Matt Mason, Traci Schacht and Noni Williams, of the Nebraska Writers Collective, served up a menu of slam poetry for guests throughout the evening.
Due to the event's success, Completely KIDS has been able to increase the number of children enrolled in the Weekend Food Program, which provides healthy, child-friendly food to take home every Friday. The weekend and after-school food programs fit within the organization's mission to educate and empower kids and families to create a safe, healthy, successful and connected community.
Completely KIDS recently completed an $11 million renovation and expansion, which will allow the agency to grow the Weekend Food Program from serving 460 kids to 930 kids over the next several years. Proceeds from Pinot, Pigs & Poets will be instrumental in that growth.
Pinot, Pigs & Poets will return on May 13, 2020.