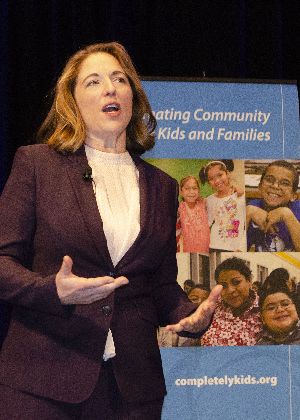 FOR IMMEDIATE RELEASE
Contact: Adrielle Griffin, Director of Marketing and Communications
(402) 397-5809, ext. 210
agriffin@completelykids.org
Author Encourages Allowing Children to Experience Failure to Set Up for Later Success
Jessica Lahey keynotes Completely KIDS℠ fundraiser
OMAHA (April 17, 2019) – Speaking to a crowd of more than 460 at Hilton Omaha on April 10, Jessica Lahey shared three components for parents to develop intrinsic motivation in children. Intrinsic motivation, according to Lahey, leads to success through experiencing autonomy and failure.
The Completely KIDS Guild brought Lahey to Omaha for the Completely KIDS Author Luncheon, presented by Children's Hospital & Medical Center and Sunny Lundgren. The fundraiser generated more than $84,000 for the Completely KIDS. Lahey is the author of The Gift of Failure: How the Best Parents Learn to let Go So Their Children Can Succeed.
"Parents are reluctant to let their children experience any type of failure or disappointment," said Brandi Ballan, Author Luncheon co-chair. "(Lahey's) message delivered the importance of children developing intrinsic motivation through autonomy supported parenting and their own trial and error. It's through letting the kids work through a solution on their own that they will gain competence and motivation."
Executive Director Penny Parker presented the 2019 Persons Behind Completely KIDS award to Jody Carstens, community volunteer, and Durham Museum. Durham Executive Director Christi Janssen accepted the award on behalf of museum staff.
"Donations from the event help improve our community by giving kids and families needed resources to educate and empower them," said Mandy Bierman, Author Luncheon co-chair. "It gives them hope, knowledge and skills to improve their lives. Proceeds from this event will impact lives by funding summer field trip opportunities, family nights, learning experiences, language literacy classes, cooking classes and school supplies."
This year's program included an introduction of the speaker by Completely KIDS alumnus, Martha Fister. Lunch included a Greek chicken salad with cookies Be Sweet Bakery.
This year's Author Luncheon committee included 2019 Guild President Desri Gocken and guild board members: Brandi Ballan, Mandy Bierman, Shannon Churchill, Karly Jurgensen Daniel, Jenn Dannehl, Leslie DeBoer, Stacy DeMars, Shannon Dombrowski, Erin Sullivan Downs, Shelly Grote, Denise Gruidl, Andrea Gutta, Cari Harris, Traci Harrison, Kelly Jeffreys, Alison Johnson, Jessica Kirkpatrick, Lori Kleinschmit, Amy Lindsay, Alyson Manning, Ashley McMahon, Mary Redli, Molly Roth, Heather Siebken, Rachel Skradski, Janet Thayer, Kristi Rosso Tredway, Barbara Tripp and Amy Whorlow.
For more information about Completely KIDS, visit completelykids.org.
-###-