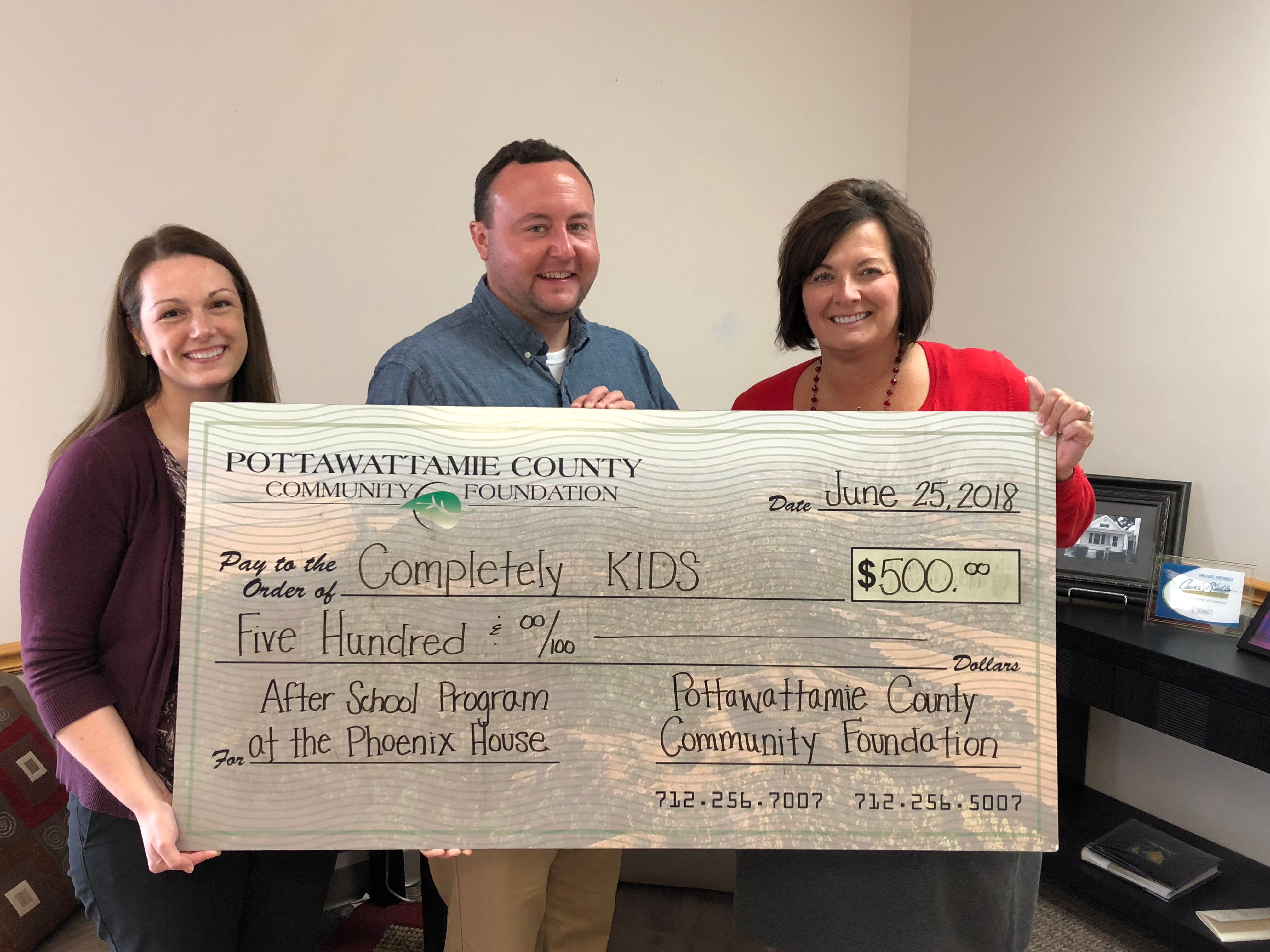 FOR IMMEDIATE RELEASE
Contact: Adrielle Griffin, Director of Marketing and Communications
(402) 397-5809, ext. 210
agriffin@completelykids.org
Funding supports afterschool program partnership with Phoenix House
OMAHA (July 2, 2018) – The Pottawattamie County Community Foundation recently awarded a $500 grant to Completely KIDS to support its afterschool efforts at Catholic Charities Phoenix House, a domestic violence shelter in Council Bluffs.
The grant provides budget-relieving assistance in the purchase of program supplies, which are needed to work with children living at the shelter. The program enhances social and emotional skills, boosts academic performance and provides hands-on learning experiences.
"With this grant, the Pottawattamie County Community Foundation supports our efforts to meet the academic and social-emotional needs of homeless children in Council Bluffs," said Completely KIDS Program Manager Bill Heaston. "Together, with the foundation and Catholic Charities, we're able to strengthen our community and provide a valuable service."
The foundation awards grants to area nonprofit organizations and government agencies that work to improve the lives of the county's residents. Completely KIDS partners with the shelter to provide services for children who have been uprooted from their homes due to domestic violence.
"Children and families are building skills and become more resilient through the caring support of Completely KIDS," said Donna Dostal, President and CEO of Pottawattamie County Community Foundation. "At Pottawattamie County Community Foundation, we are honored to connect folks in our community who know how important it is to make sure programs like this are able to continue with amazing agencies doing the heavy lifting."
###
About Completely KIDS
Completely KIDS ensures that our families have access to the knowledge and skills necessary to break the cycle of poverty. It's our mission to educate and empower kids and families to create a safe, healthy, successful and connected community. In supporting this mission, we assist more than 2,000 children and families each year in overcoming barriers, as a result of poverty, to their success. https://www.completelykids.org/