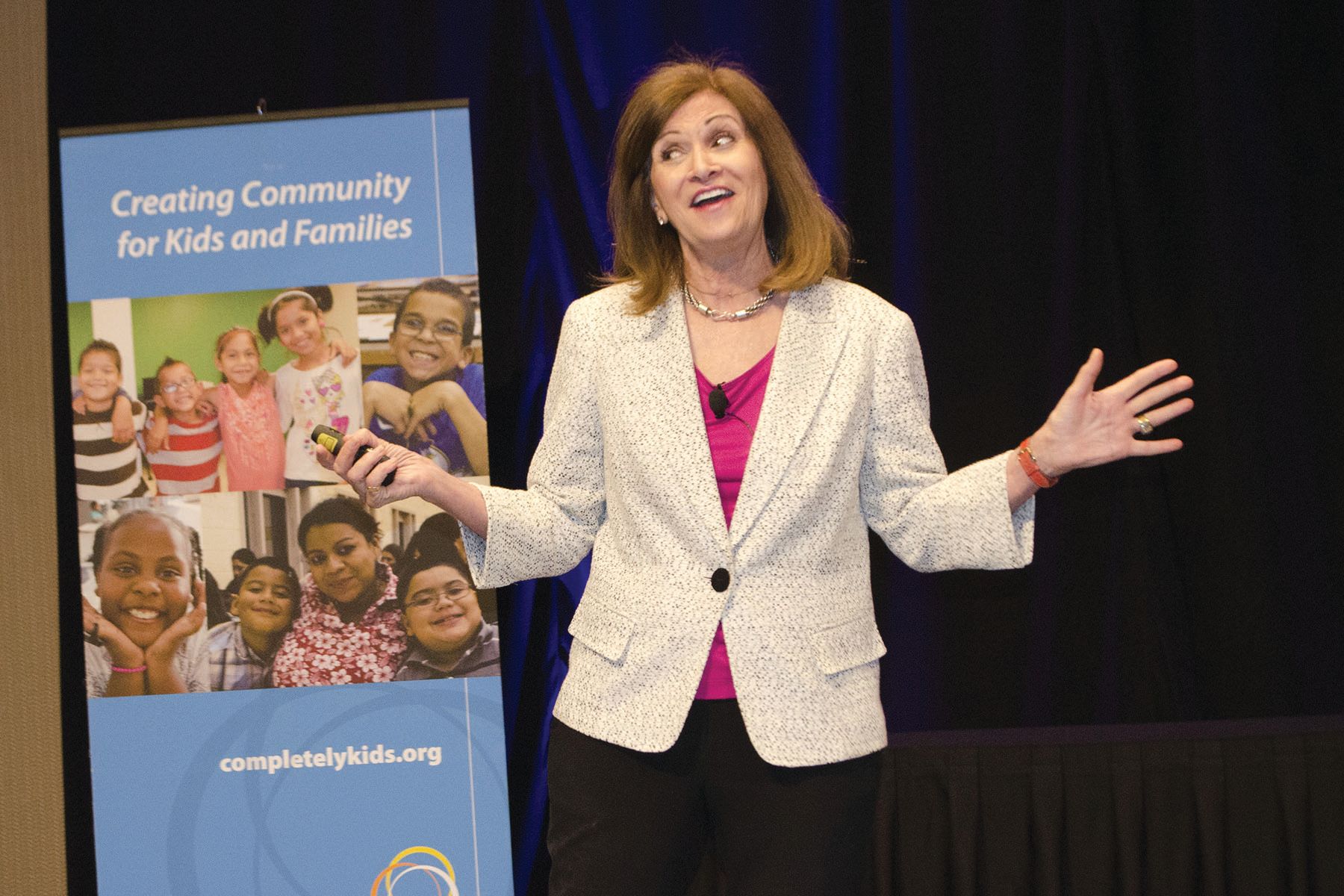 FOR IMMEDIATE RELEASE
Dr. Michele Borba keynotes Completely KIDS℠ fundraiser
OMAHA (April 19, 2018) – Speaking to a crowd of nearly 470 people at Hilton Omaha on Wednesday, Dr. Michele Borba shared nine essential habits of developing, practicing and living empathy with our kids.
The Completely KIDS Guild brought Borba to Omaha for the Completely KIDS Author Luncheon, a fundraiser which generated more than $83,000 for the agency. Borba is the author of Unselfie: Why Empathetic Kids Succeed in Our All-About-Me World.
"On behalf of the guild, I want to thank the Omaha community for supporting our Author Luncheon," said Anne Medlock, Completely KIDS Guild President. "Your continued desire to help us serve the families of Completely KIDS is greatly appreciated. Thank you to Dr. Borba for her passionate advice on this very topical subject, "What if a key to ending violence across the world is a simple as instilling empathy in our children?' "
This year's program included an introduction of the speaker by Completely KIDS alumni and junior support staff, Claire Murphy. Lunch included a southwest pan-seared chicken salad topped off with Nothing Bundt Cakes bundtinis for dessert.
The 2018 Author Luncheon committee includes Medlock, event co-chairs Andrea Gutta and Jennifer Slattery, and guild board members: Brandi Ballan, Mandy Bierman, Kate Brownrigg, Traci Copple, Karly Jurgensen Daniel, Jenn Dannehl, Leslie DeBoer, Shannon Dombrowski, Erin Sullivan Downs, Desri Gocken, Bridget Greer, Shelly Grote, Denise Gruidl, Cari Harris, Traci Harrison, Julia Hernandez, Alison Johnson, Kristin Lewis, Amy Lindsay, Julie Lyons, Alyson Manning, Rebecca Maw, Ashley McMahon, Angela Rock, Christine Schulte, Rachel Skradski, Marjean Stamm, Janet Thayer, Abby Tipton, Barbara Tripp, Liz Walenz, Laurie Webb and Carrie Weiler.